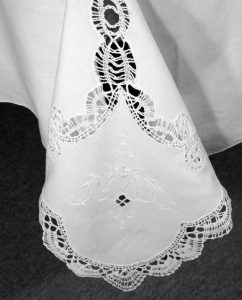 Cluny Lace is a common type of straight bobbin lace, and derives its name from the Musée de Cluny in Paris. The delicate and complex stitching gives the tablecloth a rare and enthralling allure. A simple geometric design incorporating circles, diamond blocks of half stitch and rosettes of wheatears.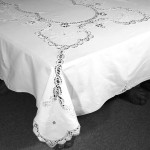 This is s simple and elegant tablecloth with a light touch of hand made cluny lace. It is All in the Details: hand stitched heart shaped flowers, stems and leaves provide interest. Available in full sizes for dining pleasure. Matching Napkins and Bread Basket cover sold separately.
Made of pure 100% white cotton.

Hand made Cluny Lace insertion.

Hand embroidered floral accents by expert artisans.

Oblong sizes: 70″x90″, 70″x104″, 70″x120″, 70″x140″

All sizes are approximate measurements with a variation of 5-10% deviance.

Napkins :  18″x18″ set of 4 : can be purchased separately.

Flip Bun Warmers can be purchased separately.

NO dryer.