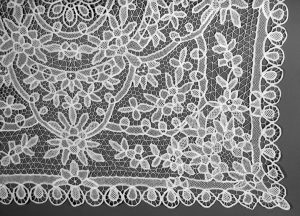 Flat Venice Lace or Point Plat de Venice or Cantu Lace is 100% hand stitched with a needle and thread.
Different countries, different centuries give this lace making technique different names. But perhaps we can rely on The Metropolitan Museum of Art in New York, the Lace Department to identify NOT the name…but the incredible "Punto in Aria"…Stitches created out of thin air. Here is a link to the museum, Examine and compare our 2 era's lace details. Doilies and Table Runners are also available.

https://www.metmuseum.org/exhibitions/listings/2012/european-lace?fbclid=IwAR1buvGqMQeHX8kcr5Vv8P4r4dmbphfwv2eSYh8jyexug8As4jt8QIrxwKA
Flat Venice Lace is rare and All Lace or Solid Lace is indeed a found treasure!
Venice Lace is known world wide as the "Lace of All Laces". It is compact in design, distinct in structure and refined in craftsmanship; an excellent work of art. The thread used only accounts for 4% of the total cost.The labour required for such hand embroidery is tremendous.
Lace makers have always been very creative and flexible, combining different, and often unexpected lacemaking techniques to form a single piece. Machine made lace appears fuzzy in contrast to the crispness and sharpness of the designs of the handmade versions.
Flat Venice Lace and Point de Venice Lace are no longer manufactured. These laces are so labour intensive to create that the hours involved in the creation and the cost of labour in today's economy have forced the price to rise to a point that these laces are no longer marketable in today's society.
Producing a piece of lace by hand is very time consuming. In 1765 a lace worker would have worked 15-hour days for a full year to make one meter (a little over one yard) of a sleeve ruffle or engageante.  A pair of sleeve ruffles would require at least 4 meters.
Here and now, the fortunate few will proceed forth to purchase the remaining last caché still available at The Lace And Linens Co…but not for long!
Bridal Cupcake or Wedding Cake decoration?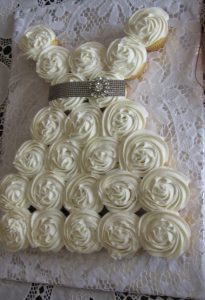 100% Hand stitched needle and thread work.

Antique White colour.

Needle made Flat Venice Lace or Cantu Lace.

Choose Round or Square shape.

Round size :  36″ diameter

Square size :  36″x36″


Limited quantities.

Measurements are approximate with a variance of 5-10% deviance.

NO dryer.