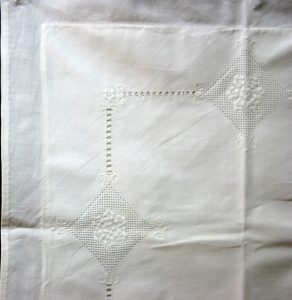 "True Appenzell embroidery will have lots of tiny five-petal flowers.The background consists of Buratto work, which is a grid or net type of needlework.The embroidery consists of a very fine satin-stitch embroidery and delicate seed stitches that are so tiny and exquisite, it's hard to imagine it was done by hand. In fact, often women doing the embroidery worked under a magnifying glass. The borders often are highlighted by a row or two of fine hemstitching."
This exquisite and rare Appenzell style of needlework on a pure white 100% cotton pillow cover. Very tiny five-petal flowers on a net of Buratto needle work are meticulously stitched by high-skilled artisans. All the elemental description of Appenzell style can be identified on this subtle and elegant piece of artwork, including the fine hemstitched embroidery. Even the border edge is hand folded with blind stitching and miltred corners. An heirloom piece that will transcend time. Limited quantities.
It is All in the Details a close up details the fine stitching and exquisite needle work of the pillow. The exceptional finishing touch is the flange edge all in one piece without any joining or mitered sewing at all 4 corners. This subtle detail is the "mark" of a high standard reserved for the elite. Of course, the edges are folded and hand sewn.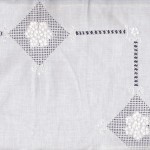 Made of premium quality pure and white Cotton.

Appenzell embroidery hand stitched on Buratto needlework.

Overlapping closure mid-way at back of cover.

Square size : 20″x20″, to fit 16″x16″square pillow.

Flange width 2″ each side.

Hand folded edge with miltred corners blind stitched.

Inside dimension will fit 16″ square insert.

Available in Winter White.

Covers only.

Measurements are approximate with a variance of 5-10% deviance.

NO dryer.