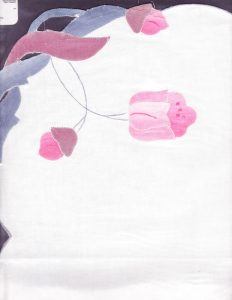 Hand-turn applique is not the only hand-worked method, but it is quick, easy, and well suited to most pieces. You will use a sewing needle to turn under the seam allowance, and the slipstitch (sometimes called the blind stitch) to secure the motif to the background fabric.
Meticulous hand appliqué Vintage Breakfast Sets, i.e., Place Mats with matching napkins, approximately 22-24 stitches to the inch.
Made of premium quality cotton.

Very fine slip-stitched Embroidered flowers and foliage, colourfast.

Folded and hand stitched border edge.

Place Mat size :  12″x18″.

Matching Napkins :  16″x16″

Sold as 2-pieces set : place mat + napkin

Measurements are approximate with a variance of 5-10% or more deviance.

Precise dimensions can be available upon request.

NO dryer.