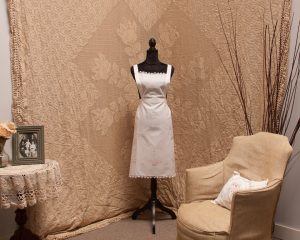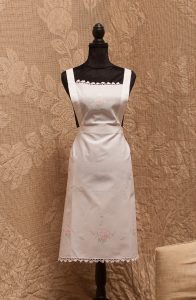 Who can resist the magic of this tiny 4 petals flower. Dame's Rocket. Also known by a better name yet, mother-ot-the-evening, Therefore we design this bib apron pink dame's rocket exquisite embroidered with crochet lace trim. Hand embroidery always provide a 3-dimensional visual effect.
An apron is a garment worn at the front of the body, since ancient times, for practical and decorative purposes. Most aprons tie at the waist, usually made of pure and white premium quality cotton.
https://bellatory.com/fashion-industry/HIstoryofClothingApronsPracticalandDecorativeFashionClassics
At The Lace And Linens Co.com, we offer 3 types of Aprons:
Waist Apron or Half-Apron that extends from the waist to mid thigh.

Bib Apron or Full-Apron covers the chest and ties or loops behind the neck and ties at the waist.

Pinafore Apron features more fabric over the shoulders than a conventional full or bib apron. Pinafores often include decorative ruffles, or 'wings' of fabric above the shoulder.
Dame's Rocket also Mother-of-the-Evening pink flower embroider bib apron
First of all. we are intrigued by the name of the flower. This subtle yet incredibly beautiful 4 petals flower. Aptly named Dame's Rocket.  Also known as Mother-of-the-evening. As a result, to celebrate Mother's day, we select skilled artisans. A bib apron with meticulous embroidery of these tiny flowers. Using varying shades of pink and white thread. Most certainly, mothers are always the inspiration for goodness, wisdom, kindness and strength. Because it is All in the Details, note that the lace trim is finely crocheted in 4-petals flower design as an edge.

Get this magic apron for Mother's Day! She will be pleasantly surprised!
Tidbits about Mother-of-the-evening flower
https://en.wikipedia.org/wiki/Hesperis_matronalis
In order to demonstrate the subtle embroidery details, we include close up view of the bib. Likewise, close up view of the apron as well.
So, we include a close up view of the pocket. Also to showcase our attention to details. Furthermore, this close up illustrates hand folded edge and expert embroidery.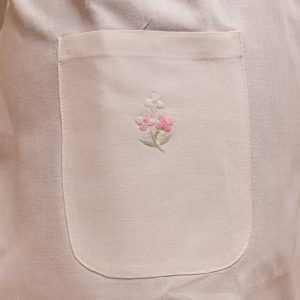 Made of pure crisp white cotton.

Crochet Lace trim with 4-petals flower.

Size : 24″ x 36″ x 36″.

Embroidered Dame's Rocket in shades of pink and white thread

2 pockets: 4″ x 5″.

Softly pleated at waist.

All sizes are approximate measurements with a variation of 5-10% deviance.

No Dryer.