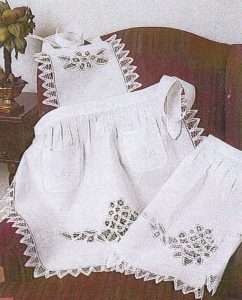 An apron is a garment worn at the front of the body, since ancient times, for practical and decorative purposes. Most aprons tie at the waist, usually made of pure and white premium quality cotton. Victorian Battenburg Lace Bib Apron with elaborate lace trim all around.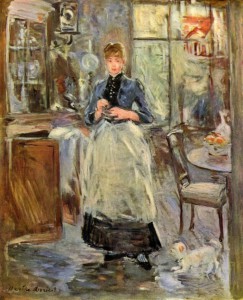 https://bellatory.com/fashion-industry/HIstoryofClothingApronsPracticalandDecorativeFashionClassics
At The Lace And Linens Co.com, we offer 3 types of Aprons:
Waist Apron or Half-Apron that extends from the waist to mid thigh.

Bib Apron or Full-Apron covers the chest and ties or loops behind the neck and ties at the waist.

Pinafore Apron features more fabric over the shoulders than a conventional full or bib apron. Pinafores often include decorative ruffles, or 'wings' of fabric above the shoulder.
First of all, Battenburg Lace is perhaps the most popular style, offering affordable and elegant decorative feature.
For the reason that our Elite Victorian Battenburg Lace Waist Apron and Bib Apron with elaborate lace trim all around.
The Elite Victorian Battenburg Lace Full length bib Apron is beautifully designed and well crafted. Because the main feature is Battenburg Lace trim all around the apron. It is All in the Details. In addition, the shape of this design is a unique feature. It is graceful and feminine with a slightly rounded edge.
Furthermore, close up of the bib and the details of the pocket.
Made of pure crisp white cotton.

Battenburg Lace trim with hand made brides & bars.

Size : full length: 24″ x 36″ x 36″.

2 pockets: 4.5″ x 5.5″.

Slightly pleated at waist.

All sizes are approximate measurements with a variation of 5-10% deviance.

No Dryer.