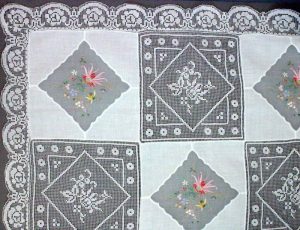 The tradition of Army Navy tablecloth "began in the civil war with actual tea cloths that were sent with the officers to the field so they could have proper tea whilst awaiting the next battle. The cloths were made of alternating panels of lace and linen, bits and pieces, really, because materials were scarce and one didn't want to send the "real" tea cloth out to be ruined by a warring regiment."
During the 1950s to '60's, Army and Navy tablecloths in heirloom quality and hand made filet lace were created for military officers posted in the East, after WWII. At The Lace And Linens Co. we are proud to bring you beautiful linens to honour this tradition. Limited quantities.
Chrysanthemums : A symbol of the sun, the Japanese consider the orderly unfolding of the chrysanthemum's petals to represent perfection, and Confucius once suggested they be used as an object of meditation. A nice theme for this noble tablecloth.
It is remarkable how so many different type of Embroidered stitches our expert needlewomen can illustrate in these 5″x5.5″  organdy squares.  The effect is evident in the close-up version. It is All in the Details note the meticulous tiny stitching to attach the organdy inserts to the linen fabric.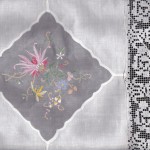 And of course, the hand made filet lace is expertly done with fine details, chrysanthemums in the centre of each square. It has several different varieties of stitches such as Long and short satin stitch, seed stitch, stem stitch, pull thread stitch, shadow stitch, and chain stitch.

Made of pure Linen fabric.

Cotton Filet Lace.

Swiss Cotton Organdy inserts.

Hand embroidered Chrysanthemums & flowers.

Dinner napkins: 18″ folded, and hemmed, embroidered filet lace 1-corner.

Napkins sold in sets of 4.

Sizes :  70″x90″, 70″x108″, 70″x126″, 70″x144″.

Extra width :  102″x119″

Measurements are approximate with a variance of 5-10% deviance.

Precise measurements available upon request.

Hand wash. No dryer.