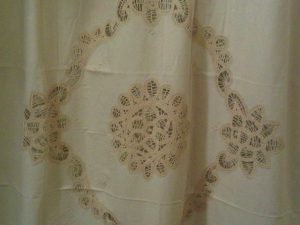 Battenburg Lace Trimmed Shower Curtain features beautiful lace work on all edges, in addition to a large lace centre. Available in Ecru colour. Detachable Valance has full lace edge. Lace trim is also at the footer of the shower curtain.
Size :  72″x70″
Choose Vintage Ecru colour or. Crisp White.
Made of pure cotton.
Battenburg Lace edge.& trim on all sides.
Features satin-stitched embroidery.
Amazing Battenburg lace floral at the centre.
Machine wash.