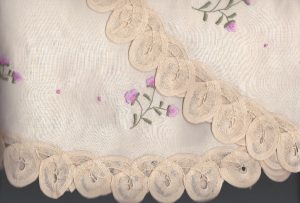 These whimsical petits fleurs with Ecru Battenburg lace trimmed tea tablecloths are adorable! We create this beautiful little table top as an accent piece to decorate your home and to spruce up your cozy corner. Beautifully embroidered RadiantOrchid Petits Fleurs Tea cloth.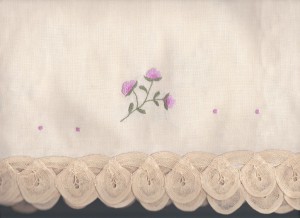 Made of pure 100% premium quality cotton.

Embroidered petits fleurs with dot embroidery.

Battenburg tape Lace full TRIM edging.

Ecru cotton with Radiant Orchid Pantone colour 2014.

Square size : 36×36″.

Round size : 36″ diameter

All sizes are approximate measurements with a variation of 5-10% deviance.

NO Dryer.
A note to B2B Tea Rooms
Because a coarser Cotton thread is selected to weave this fabric. Therefore the effect is perfect for  commercial use. Even though this RoseQuartz Petits Fleurs Tea cloth is 100% Cotton. So, the thicker and sturdier cotton thread produces a "stiffer" material. Additionally a light application of soil release finishing helps. In sum, a delightful mix of Beauty and Functionality!