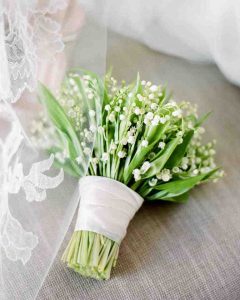 Go for lacey combinations
You can't go wrong when it comes to using lace for a floral arrangement, especially a bride's bouquet. As most wedding dresses feature lace, it is a top choice when it comes to wrapping a wedding bouquet. Use the same shade as your wedding dress for a cohesive look and opt for embellishments such as pearls or crystals if you'd like additional bling.

Put the perfect finishing touch on your dream bouquet with any of these gorgeous bouquet wrap ideas!
Lily of the Valley Bouquet
Lily of the Valley represented new beginnings during the Victorian Era, making them the ultimate bloom to carry down the aisle during your own big day. This petite clutch was created with a handkerchief bouquet wrap, triple tip simple and elegant. Cost CAN$ 3.65

Snowflake Crochet Lace 10″x10″ Square Doily :  White or Ivory Cream
Crochet Lace trim Napkin 12″x12″ : White or Cream
Battenburg Lace Napkin 12″x12″ :  White