Linens & Life Styles: Sunday Brunch in the Garden. Any Linens & Lace such as a bun cover or a table topper will bring intimacy & elegance to an otherwise ordinary brunch.
Embroidered flip bun cover or toast napkin adds a wonderful finishing touch to any dinner party or outdoor picnics. We offer many styles to choose from.
Blue & White dishes have always been a classical favourite. With white being the colour of "purity" and blue being the colour of "serenity", they make the perfect combination.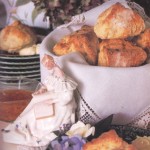 We create this blue flower on white flip bun warmer or toast cover as a complement for the beloved Blue & White dishes.
Made with easy care cotton & polyester blend.

Crisp white with Blue flower.

Size:  16″ x 16″.

Cut out work as accents.

NO dryer.

Limited quantities.