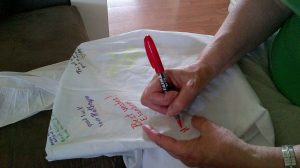 Tulips are symbolic of perfect love. Battenburg Lace is romance. White is the colour of purity. Together, the combination of these elements within this pinafore apron provides the ideal outlook of a bridal shower.
This unique pinafore apron is meticulously handcrafted for a romantic appeal. Excellent for bridal shower games: such as writing supportive messages on it, or pining silly stuff such as ribbons or kitchen utensils.
Made of pure crisp white cotton.

Battenburg Lace trim.

Size : 24″ x 34″ x 36″.

White hand embroidered stitches & lace work.

2 pockets: Scallop edge 4″ x 5″.

Slightly pleated at waist.

Measurements are approximate with a variance of 5-10% deviance.

No Dryer.