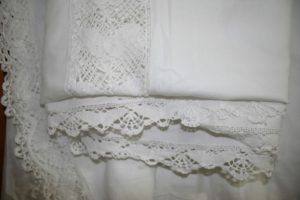 Cluny Lace is a bobbin lace style, worked as a continuous piece. It is a heavy plaited lace of geometric design incorporated circles, divided 'trails', diamond blocks of half stitch and rosettes of pointed wheatears (closely woven leaves).
Cluny was named for the Musee de Cluny in France, where 16th and 17th century laces were studied and created. It appeared in the 19th century.
Hand made Cluny Lace is rare and highly esteemed. Our bedding collection of Butterfly Cluny Lace needs no adornment. The beauty is in the lace…and its classic simplicity of the design. The lace butterflies are an amazing 5 inches wide.  Limited quantities.
Close up images demonstrate this hand made lace with distinguishable stitches. The butterflies are poised for flight. It is All in the Details, the bed cover is further trimmed with lace butterflies 1.5″ on all three sides.
Elegant and subtle, this bed cover and pillow sham set turns Dream of the Butterfly into tangible reality.
Matching shams
Made with premium quality pure cotton.

Crisp White.

Bed Cover sizes:  Twin : 68″ x 90″

Bed Cover sizes:  Double :  84″ x 90″

Bed Cover sizes:  Queen :  90″ x96″

Bed Cover sizes:  King :  108″ x 96″

Bed Pillow Sham :  Standard :  20″x26″

Bed Pillow Sham :  King :  20″x36″

Measurements are approximate with a variance of 5-10% deviance.

Trimmed with Hand made Cluny Lace of Butterflies in flight..

NO dryer.