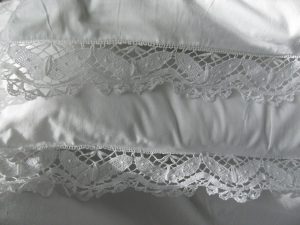 Cluny was named for the Musee de Cluny in France, where 16th and 17th century laces were studied and created.
Hand made Cluny Lace is rare and highly esteemed. Our bedding collection of Butterfly Cluny Lace needs no adornment. The beauty is in the lace…and its classic simplicity of the design.
It's All in the Details, signs of expert crafts include "perfectly straight" attached lace to the fabric, and the lace corners being finished in continuous thread.
Made with premium quality pure cotton.
Crisp White.
Pillow Sham size:  21″x27″ OR 21″x37″ (king).
Measurements are approximate with a variance of 5-10% deviance.
Trim width : Cluny Lace Butterflies in flight 3″.
NO dryer.