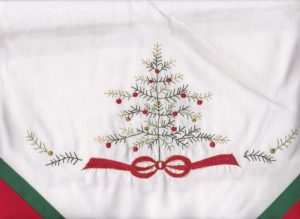 Who can resist the charm of Charlie Brown? And the fond memories of an antique Rocking Horse?
We bring you a unique design combining Charlie Brown Christmas Tree and a beloved Rocking Horse. A cheerful Kid-friendly theme captured in fine embroidery. To decorate an elegant home with a contemporary touch, we created a custom size 24×24″square Doily, as well as 3 sizes of Runner with a bordered edge of Red and Green colors. Limited quantities.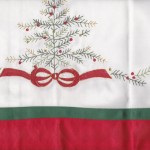 This embroidered design of Charlie Brown Christmas Tree is well done with a very elegant & contemporary 2 solid colour edges with mitred corners.The hexagon shape provides a unique placement for the Charlie Brown Christmas Tree. Available in table topper or 3 sizes Runners for this holiday season.  Limited quantities.
We select Viscose to blend with Polyester for easy care. Viscose is the oldest man-made fibre with a luxurious & silk like aesthetic. The Viscose content can provide a superb drape on any surface.
Made of warm White Viscose & polyester blend.

Embroidered accents details in deep Victorian colours, red, green & gold.

Hexagon sizes:  16″x36″, 16″x72″

Oblong size:  16″x54″, 14″x20″

Measurements are approximate with a variance of 5-10% deviance.

Dry Clean.

Limited quantities.