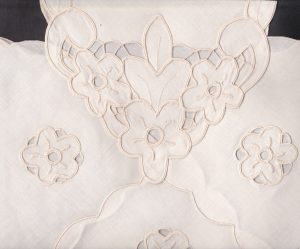 Linens & Life Styles: Sunday Brunch in the Garden. Any Linens & Lace such as a bun cover or a table topper will bring intimacy & elegance to an otherwise ordinary brunch.
Embroidered flip bun cover or toast napkin adds a wonderful finishing touch to any dinner party or outdoor picnics. We offer many styles to choose from.
Cut work embroidered Cherry Blossoms on a tone on tone bun cover can bring elegance & grace to any occasion.
We bring this exquisite Cut work Cherry Blossoms to your table for elegant entertaining. These tiny flowers are anything but plain with skillful craftsmanship.
Made with pure combed cotton.

Choose Crisp white or Ivory ecru colours.

Cut out embroidered Cherry Blossoms on all 4 corners.

Size: 18″ x 18″ specially designed for bread baskets.

NO dryer.