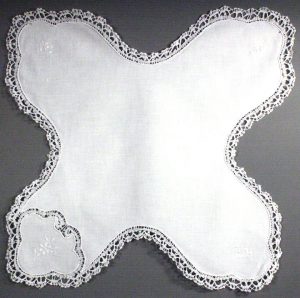 Linens & Life Styles: Sunday Brunch in the Garden. Any Linens & Lace such as a bun cover or a table topper will bring intimacy & elegance to an otherwise ordinary brunch.
Embroidered flip bun cover or toast napkin adds a wonderful finishing touch to any dinner party or outdoor picnics. We offer many styles to choose from.
Cluny Lace, especially when hand made, is beautifully crafted to create a delicate & romantic atmosphere.  A true symbol of beauty and elegance.
Our Cluny Lace trim flip bun warmer can easily transform any dining occasion into an elegant affair. The delicately hand made lace conjures an atmosphere of grace. Hand stitched flower accents adds finishing details.
Made with premium quality combed cotton.

Crisp white.

Size:  18″ x 18.

Delicate hand made cluny lace.

Satin stitched embroidered accents on all corners.

Amazing price for heirloom quality.

NO dry.