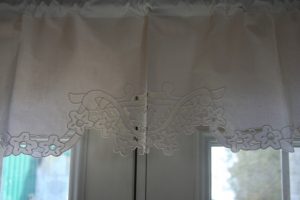 In Japan, cherry blossoms symbolize clouds due to their nature of blooming en masse, besides being an enduring metaphor for the ephemeral nature of life, an aspect of Japanese cultural tradition that is often associated with Buddhist influence.
In cut work, decorative holes are cut out into certain spots of embroidered items, to create an intriguing "see through" visual effect, as an alternative to Lace. It is All in the Details, we then reinforce the resulting "holes" and fill in with embroidery & lace braids. Note the many twists and turns around the intricate detailed design. Below is a close up version.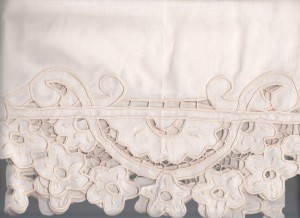 We create this delightful Cut work valance with cut out dainty Cherry Blossoms flowers dancing on the edge. The visual effect is at once elegant & playful.
Straight valance in 2 sizes: 60″(W) or 90″(W) x 24″(h)
smaller window size : 60″ (w) x 24″ (h).
larger window size : 90″ (w) x 24″ (h).
Rod pockets :  1″ and 2″.
Ivory Creamy Ecru colour.
Made from premium pure cotton.
Cut out embroidered Cherry Blossom flowers as accents.
Measurements are approximate with a variance of 5-10% deviance.
NO dryer.
Limited quantity.