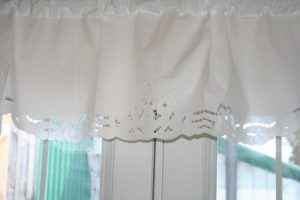 Give your plain windows a little more glamour! Classic Cutwork Rose is always a popular style to embellish your windows. Available in various sizes to choose from.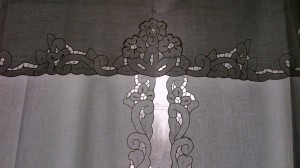 Warm Ecru  Cut work embroidered Roses valance will sure to enhance any decor.
Straight valance in 2 sizes: 60″(W) or 90″(W) x 20″(h)
smaller window size : 60″ (w) x 15″ (h).

Rod pocket : 2″ and 1.5″

larger window size : 90″ (w) x 20″ (h).  Available in Ecru.

Generous rod pockets :  2″ and 2.5″.

Vintage Ecru colour.

Made from pure cotton.

Cut out embroidered roses as accents both front and back sides.

Very Limited quantities.

NO dryer.