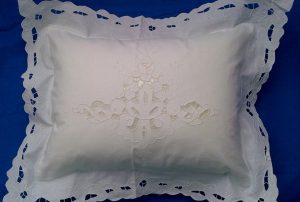 Our Cutwork Rose design is so popular that products were developed to complete the Whole Home approach. As a result, bedroom linens and window treatments can easily coordinate with bathroom guest towels or shower curtains, or extend into the living-dining room decor.
Pillow covers and the entire product line is made of 100% premium quality cotton, soft to the touch. 
It is All in the Details, each side of pillow is exquisitely designed with a full cut work trim embroidered as the border edge. In the centre of the pillow features a cut out rose embellished with cut work leaves and blossoms. Available in crisp white or creamy ecru (selective sizes). Cover only.
Boudoir size (or Breakfast pillow) is a popular shape for many occasions. For short car trips, as a travel pillow. For Baby pillow, as a support in carriages. For better rest at night, as a hops pillow or lavender scented pillow. Or be creative, seek your own combination of Comfort & Beauty.  Crisp and Clean White Cotton.
Made of premium quality pure Cotton.

Cutwork embroidered rose crafted with cutwork trim edge.

Button closure.

Boudoir or Travel Pillow :  White only :  12″x16″.

Covers only.

All sizes are approximate measurements with a variation of 5-10% deviance.

No dryer.