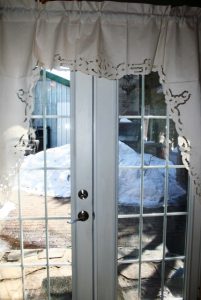 Cutwork Rose Teardrop valance is a unique and beautiful design. Pristine White with cut out & embroidered Roses will sure to enhance any decor. Un-joined and 1-piece swag on premium quality cotton.
Close-up details illustrate quality workmanship, in creamy ecru colour.
Our 1 piece swag without any joint is uniquely designed to decorate patio doorways or windows. Cut out & embroidered roses cascade beautifully along the sides & edges of the teardrop valance.
Teardrop valance un-joined : 2 lengths :  80″(w) x 38″(L) drop  or  63″(L) drop
No joint and 1 piece.

Teardrop swag 80″ wide.

Teardrop length :  38″ drop.

Teardrop length :  63″ drop.

Pure Cotton.

Crisp White or Creamy Ecru colours.

2 Rod pockets : 2″ and 3″ high.

Cut out & embroidered roses cascade along the swag valance.

Measurements are approximate with a variance of 5-10% deviance.

Machine wash. Natural Air dry.

Limited quantity.