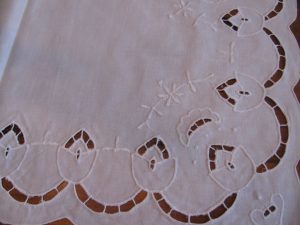 We create this simple and elegant White cutwork tulips oblong tablecloth made of 100% Cotton natural fibre in 5 sizes for your dining pleasure.
Tulip is one of the world's most easily recognized and beloved flowers. It is always "just right", not too much, not too little. As a flower, the symbolic meaning is "Perfect Love". 
As table setting,  it is "just right"! The upright and regal shape of the flower on its tall stem can accommodate traditional or modern homes, formal setting or cottage country. We offer table runners as well as tablecloths for casual or formal dining setting. Tablecloths in 3 different shapes: Square, Oblong, or Round. Some are still available in Ecru colour. It is All in the Details, cutwork tulips embroidered along the entire edge of the tablecloth or place settings.

We recommend Franciscan dishware as companion to our simple and elegant embroidered white cutwork tulips oblong  tablecloth, a perfect match
https://www.microwavecookingforone.com/Franciscan/FranciscanTulip.html
https://en.wikipedia.org/wiki/Franciscan_Ceramics
Note: New sizes will be added when available. Please check back often or inquire.

Made of 100% pure cotton.

Crisp White colour white embroidery.

Oblong size: 50″ x 70″ , 70″ x 90″,  70″ x 124″, 70″ x 140″

Napkins size: 18″x18″ : 4-pieces per package.

All measurements are approximate with a variance

of 5-10% deviance.

NO dryer.