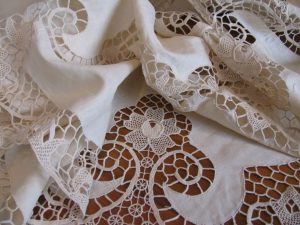 Reticella (also reticello or in French point coupé or point couppe) was originally a form of cutwork in which threads were pulled from linen fabric to make a "grid" on which the pattern was stitched, primarily using buttonhole stitches. Later reticella used a grid made of thread rather than a fabric ground. Both methods resulted in a characteristic geometric design of squares and circles with various arched or scalloped borders.
It is All in the Details, hand embroidered of exquisite daffodils with an array of highly skilled stitching techniques, adding a three dimensional effect. In particular, the centre of each embroidered daffodil, using pull thread stitching mirrors the lace Reticella Daffodils. This is indeed, a tablecloth well designed and well made for an heirloom!
Hand made Reticella Lace needle stitched.

Embroidery details hand needle stitched on both sides reversible.

Limited quantities available.

Vintage Ecru colour or Warm White colour.

Sizes :  Round :  68″ / 86″

All dimensions are approximate with a variance of 5-10% or more deviance.

Precise dimensions can be available upon request.

Hand wash only.