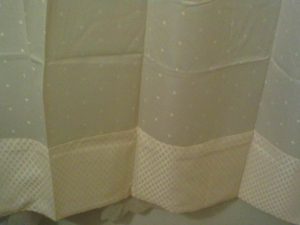 Enjoy the wealth of this stylish shower curtain. Diamonds & Dots is rich in Gold colour. It features a contemporary design. Dots accentuated & contrasted with a wide 9.5″ band header and footer. Made in a heavy gauge polyester fabric.  On sale now!

Shower Curtain Size :  72″ square
Stall Size :  36″x78″
Woven of 100% heavy gauge polyester.
Rich Gold colour tone.
Dots with 9.5″ Diamonds band header & footer.
Machine wash.
Approximate prices in other currencies:  US$ 33.01 / UK pound sterling 23.10 / Euro 30.11.     (Jan. 2016)