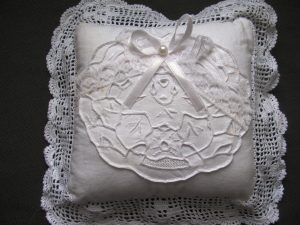 Make your wedding even more special by using these beautiful Hand made Cotton Cushion Covers as Ring Bearer Pillows! You and your betrothed deserve this one-time memorable moment, so you might as well present the wedding rings in style! Choose from either one of the 3 designs:
Hand Crochet Lace edged in shell design with Cut work embroidery sachet can be a ready made ring bearer pillow. After the wedding…serve as a pin cushion in the kitchen or sewing room or even the foyer.
It is All in the Details, the crocheted lace trim subtly features a cross throughout. And the customized corners bespoke the high skill of our lace worker.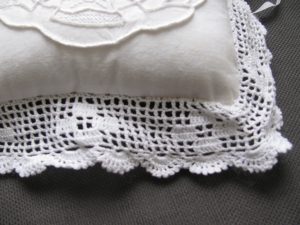 Pure 100% premium quality Cotton

Polyester filling.

Pristine White colour.

Handmade Crochet Lace Shell design.

Hand embroidered cutwork flower accents.

Square size :  9.5″ x 9.5″

Crochet Lace trim :  1.75″

All measurements are approximate with a variance of 5-10% deviance.

NO Dryer.