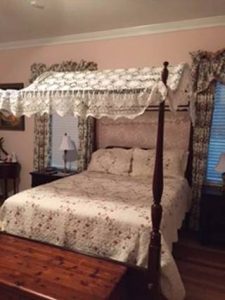 An elegant Windmill Crochet Lace bed cover that can be transformed into a beautiful canopy. A relaxed and restful sleep!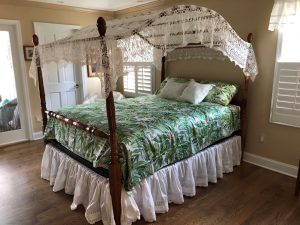 A special thanks to Janice Clifton, the owner of the exquisite Virginia Cliffe Inn, for this ingenious idea!
Handcrafted with an intricate lace design, this bed cover brings elegance to a simple bed. A touch of "royalty" at a reasonable price! Guaranteed to impress your guests (and possibly make them envious…)
Canopy beds are certainly a go-to for bedroom interior designs, and frankly, nothing creates a relaxing retreat quite like a luxurious canopy bed. The grand structure of this four-poster bed immediately adds drama and elegance, creating a truly inviting space to rest and relax. Lace is without a doubt the very best canopy to create the ambiance of romance and intimacy! Windmill Crochet Lace, the handmade details can certainly communicates royalty. Meanwhile…practical functionality!
Pure White colour.

Single size (approximate)  68×87

Queen size  (approximate) 97×107

King size : (approximate) 110×100

Made of pure cotton.

Measurements are approximate with a variance of 5-10% deviance.

Precise measurements available upon request.

Dry-clean.