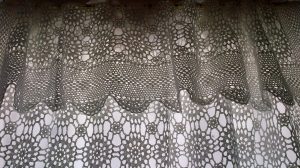 Crocheting was considered easy and less time consuming, hence more accessible as pastime hobby. The word is derived from the French word "crochet", meaning hook.
Elegance Kate -this "Royal" handmade Crochet Lace Tablecloth we name in honour of Duchess of Cambridge- as featured on Hello Magazine Cover page of the Royal Tour. All products purchased from The Lace And Linens Co, can always be a creative DIY idea for multiple usage. Here, a tablecloth becomes a lace curtain panel.
Close-up versions of the classic pattern : crocheted lace flower wheel. And how one end of the border edge can be folded over as a lace valance without sewing.
How the no-sew can easily be accomplished… When changing home decor according to seasons, this lace curtain panel can once again functions as a hand crocheted lace tablecloth…
Made of pure mercerized cotton thread.

Crisp White cotton.

Oblong:  50″(w) x 70″(L)  or 70″(w) x 50″(L)

Measurements are approximate with a variance of 5-10% deviance

NO Dryer.