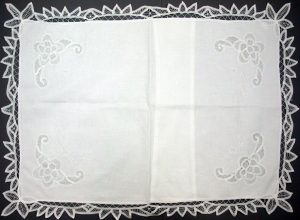 Battenburg Lace was developed in the late 1800s and named after Queen Victoria's son-in-law, The lace gained popularity due to a distinctive method of combining machine-woven tapes with hand stitching.
We design this beautiful cushion cover with tape shapes resembling leaves and flowers to compliment our Elite Battenburg Lace bedding product line. It is All in the Details. To enhance, satin stitched accent flowers are hand embroidered along the lace.
Boudoir size (or Breakfast pillow) is a popular shape for many occasions. For short car trips, as a travel pillow. For Baby pillow, as a support in carriages. For better rest at night, as a hops pillow or lavender scented pillow. Or, be creative, seek your own combination of Comfort & Beauty.
At Lace And Linens, we always choose premium quality of natural fibre fabric. These cushion covers are made of pure and crisp white Cotton. Envelope closure. Covers only. Limited quantity.
Made of premium quality pure Cotton.

Hand crafted with lace trim and satin stitched embroidered accent.

Rectangular shape: 12″x16″.

Covers only.

All sizes are approximate measurements with a variation of 5-10% deviance.

No dryer.