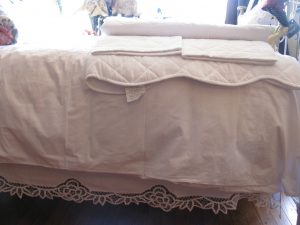 Elite Battenburg Lace are available in a complete line of bedding products! With these gorgeous and extravagant designs, you might want the whole set! 
Elite Battenburg Lace is one of our most elegant and sophisticated styles. It is beloved by its distinctive blend of floral and geometric patterns.
This close up image fully demonstrates beautiful details of expert workmanship.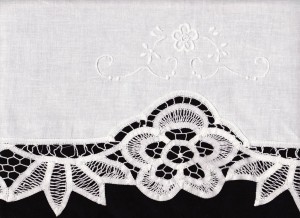 Unlike most Battenburg Lace, our Elite line of bedding products are hand made lace with satin stitched embroidery accents. It is exquisite!
Made of premium quality 100% pure cotton.

100% pure cotton decking.

Hand crafted Battenburg Lace.

Satin stitched flower accents.

Vintage Ecru colour.

Limited quantity available.

Drop length: 14″-15″.

Double size: 54″(w) x 75″(l)

Queen size:  60″(w) x 80″(l)

King size:  80″(w) x 80″(l).

Measurements are approximate with a variance of 5-10% deviance.

Dry clean.