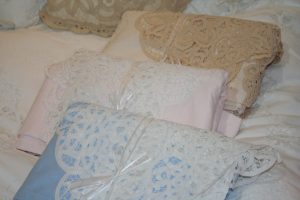 The "Crown Jewel" of our Bed sheet collection is this Elite Battenburg Lace. Elaborate and beautifully hand embroidered satin stitched floral accents. The full lace-edge is luxurious and intricate, complete with hand crafted lace brides and lace bars, and even laborious lace rings. The lace edge extends from end-to-end along the entire length of the flat sheet, which is, an incredible 90″ across.  The widest section of the exquisite Battenburg lace measures from tip-to-tip 12″.
As for the matching Queen size pillow cases, the beautiful lace extends along the full length of the pillow, that is, 20″ across. The deepest Battenburg lace measures 8″. Imagine waking up in the morning wrapped in luxury and romance. A perfect gift for a bride.

Available in 4 different colours : Classic White, Blue, Pink Lace, Vintage Ecru.
4-pieces sheet set, complete with elaborate hand embroidered & full lace-edged flat sheet, and matching Queen size pillow cases; fitted (regular), at an incredible value: CAN$269.95 for entire 4 pieces set !

To illustrate the premium quality of pure cotton thread woven into 100% cotton fabric, a picture will translate into a "thousand words"… Thickness (or height) of the entire set : Top flat sheet, fitted flat sheet, 2 pillow slips : measures 9″ high when folded into 10″ x 14". weighing 4 lbs. 3 oz.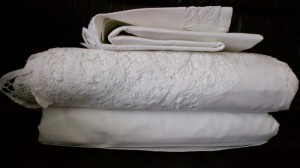 For the colour Vintage Ecru: the color is warm, antique, and tradition, a colour which speaks to the heart. Ecru coloured Cotton with elaborate darker shade of Ecru handmade Battenburg Lace border edge & hand embroidered Ecru Satin-stitched flower accents. Complete Queen set with Queen size pillow cases of the same matching lace edge.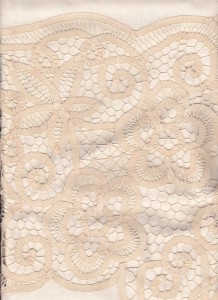 Hand-stitched lace border on our sheet set hints at a restful night of romance & sweet dreams. We also offer more Elite Battenburg products to match!
Woven of pure cotton natural long staple fibre of premium quality.

Yarn dyed natural cotton thread to ensure long lasting colour.

Hand made Battenburg Lace full border edge on top sheet & cases.

Vintage Ecru

Cotton with 

Ecru

Lace &

Ecru

Satin-Stitched Embroidery.


4 pieces Set includes queen size : flat sheet, fitted sheet and two pillowcases

Size :  Flat Sheet : Queen : 90″x108″

Size :  Fitted sheet : Queen : regular

Size :  Pillow Case : Queen : 20″x30″

Measurements are approximate with a variance of 10-15% variance.

Machine wash. No Dryer.