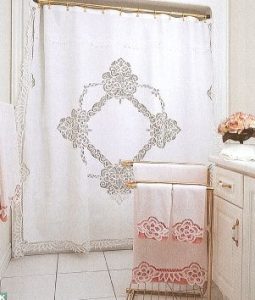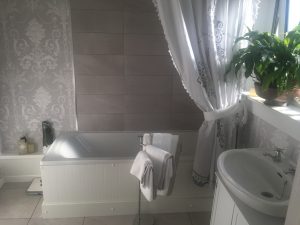 Elite BattenburgLace Shower Curtain is our best design to offer! And moreover, Battenburg Lace is still the most popular customer's choice.
https://trc-leiden.nl/trc-needles/regional-traditions/europe-and-north-america/lace-types/battenburg-tape-lace
Elite BattenburgLace Shower Curtain is without a doubt our best design! Most note worthy, there is a difference between Handmade Battenburg Lace versus machine tape. First of all, experience intricate and handmade Battenburg Lace. Furthermore, the lace edge (not just trim) extends from edge to edge. Finally this elaborate lace edged all sides of the shower curtain. In addition, accents of hand satin stitched flowers add to this elegance.  Winter White premium quality Cotton. Matching valance.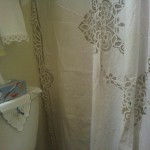 Size :  72″ x 70″

Made of pure 100% cotton.

Hand made Battenburg Lace full edge.

Features satin-stitched embroidery floral accents.

Intricate handmade Battenburg lace at the centre.

Measurements are approximate with a variance of 5-10% deviance.

NO dryer.

On Sale now for an incredible value. Limited time offer!

Approximate prices in other currencies:  US$ 61.02 / UK pound sterling 42.66 / Euro 56.44.     (Jan. 2016)