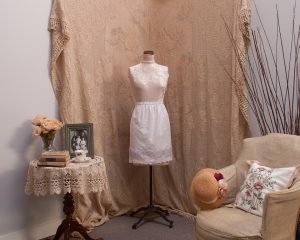 Classy

Eyelet Embroidered trim Pencil

Skirt White
With this Eyelet Pencil Skirt in white cotton, classic Nine-to-five dressing gets a modern update. Crafted from natural fibre pure cotton fabric. Away from sombre black. this timeless pencil skirt is perfect to take you from desk to evening. Embroidered eyelet lace edge gives the skirt a feminine flair.

What is a Pencil Skirt?
"The pencil skirt is one of the most timeless silhouettes in fashion — and with a good reason. Pencil skirt outfits are a flattering look — when worn right — on just about every figure."
https://www.liveabout.com/how-to-wear-a-pencil-skirt-1265519
Finally, Zena Jane Lace Wear updates a classic pencil skirt to modern life style.The tight waistline features an elasticated waistband for comfort. Well, flexible to suit the expanding or contracting elements of life, such as eating, aging, a more relaxed feel.

For the reason of lace and embroidery in each pencil skirt, classy look is still in!
DETAILS & CARE

Ease into the season with this sweet White Eyelet Pencil Skirt. That's both office-approved and just right for date night. This piece is part of our new Zena Jane Lace Wear brand's collab with The Lace And Linens Co, a place for moms who want to take their standard uniform up a notch. White colour is perfect to complement any of your favourite colour.
17.5″ length


28″- 30″ waist

Unlined

Elasticated Waistband

Natural fibre 100% cotton

Hand wash, dry flat

Made in Canada

Zena Jane Lace Wear collection

Item #ZJ027PCWhite Eyelet Pencil Skirt


2-4 weeks delivery.