The luxurious feeling of sleeping on lace trim pillow cases is one of the many pleasures of a restful day. The Lace And Linens Co. offers many choices, with embroidery or lace decorated…and best of all, at budget wise prices. The generous queen size will allow ample room for standard or queen pillow.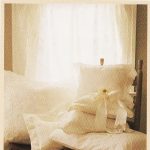 For easy care, this beautiful filigree lace trimmed cases on a Polyester and cotton blend fabric. Bed pillow still provides cotton content and comfort.
Polyester & cotton blend.

Filigree Lace border trim of 5.5″.

Ivory Ecru.

Generous Queen size 20″ x 30″.

Measurements are approximate with a variance of 5-10% deviance.

Machine wash. NO dryer.