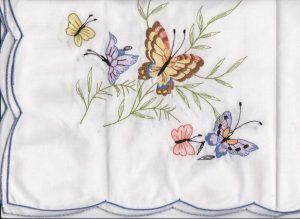 We love the idea of Butterflies in the Meadow! Because Butterflies are free spirit, beautiful. Also a welcoming sight in the meadow! So, we create a perfect companion to the Lenox design. Embroidered Butterfly Meadow tablecloth for the kitchen.

Inspired by Lenox beautiful ceramic porcelain Butterfly Meadow,
Lenox Butterfly Meadow for kitchen
Because of everyday use, we select easy care Cotton & polyester blend
The result is a perfect casual tablecloth for your kitchen: 50×70″. As a bonus eco friendly offer, you can buy 6 luncheon napkins to match. Or, buy without napkins.

Furthermore, a simple tablecloth for your outdoor entertaining. Either in your basket to a picnic outing. Or, as a tablecloth for Alfresco Luncheon.
Embroidery always add charm & elegance.  It is All in the Details. Therefore, these butterflies give a 3-dimensional visual effect and add interest!
Simple and Elegant! Celebrate the freedom and open space of nature with this embroidered Butterfly Meadow tablecloth. Finally, add a casual touch of elegance to alfresco dining in your backyard.
Easy care 48% Cotton/52% polyester blend.

Embroidered Butterflies.


Yarn dyed thread for long lasting colour

Size: 50″x70″ oblong

Napkin size: 12″ luncheon set of 6

Purchase with or without 6 matching napkins.

Sizes are approximate with a variance of 5-10% deviance.

NO dryer.