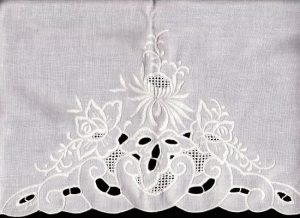 The luxurious feeling of sleeping on crisp white pure cotton pillow cases is one of the many pleasures of a restful day. The Lace And Linens Co. offers many choices, with embroidery or lace decorated…and best of all, at budget wise prices. The generous queen size will allow ample room for standard or queen pillow.
On sale now for a limited time.
Flower Garden is a symphony of beautifully embroidered flowers.
It is a delight to rest amidst an exquisite garden of embroidered flowers. Intensely stitched Chrysanthemum and Roses accentuated with cut work & drawn thread details on Natural Fibre Cotton Rich pillow Cases. Crisp White colour. Queen size
Natural Fibre Cotton Rich.

Embroidered Chrysanthemums & Roses.

Cut work & drawn thread embroidery as accents.

Crisp White colour.

Generous Queen size 20″ x 30″.

NO dryer.