The luxurious feeling of sleeping on crisp white pure cotton pillow cases is one of the many pleasures of a restful day. The Lace And Linens Co. offers many choices, with embroidery or lace decorated…and best of all, at budget wise prices. The generous queen size will allow ample room for standard or queen pillow.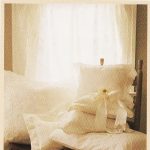 We bring this very fancy hand crafted French Ribbon Lace. Lace detailed work includes lace bars, lace brides, lace mesh, and lace wheels.
Natural Fibre combed Cotton.

French ruban lace border trim from edge to edge.

Crisp White.

Generous Queen size 20″ x 30″

2″ tongue to keep your pillow in place.

Measurements are approximate with a variance of 5-10% deviance.

NO dryer.