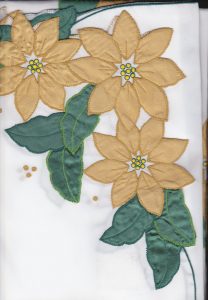 Classic and elegant, Gold Poinsettia embellished with emerald green leaves appliqué on easy care winter white polyester is a welcoming alternative for this holiday colour scheme. Economically priced tablecloth in various sizes can create an ambiance table setting for family & friends.
The gold color symbolizes "light and purity," which gives an elegant and festive touch to any Christmas gathering.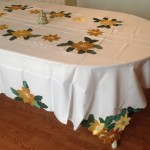 One interesting feature to note about this Gold Poinsettia tablecloth is the play of light reflected on the Gold can create a difference in ambiance & mood…as seen in these pictures.
Matching Bread Basket Cover or Flip Bun Warmer in Cotton can be available to bring this table setting to perfection.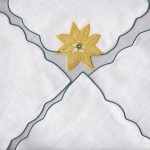 Made of winter white polyester.

Applique classic Gold Poinsettias with emerald green leaves.




Oblong sizes:  54″x72″, 72″x90″, 72″x108″.

Matching Flip Bun Warmers or Toast Covers available. Sold separately.


Measurements are approximate with a variance of 5-10% deviance.

NO dryer.