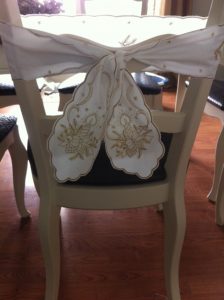 Golden Moments table ribbons are beautifully embroidered white candles with gold thread accents. Easy care Viscose & Polyester blend. Celebrate the Golden Moments in your life : Hanukka, Yuletide, Christmas, Weddings, Anniversaries, Birthdays, etc. Simple & elegant, setting a table for memorable occasions is effortless. Limited quantities. Available in home decorating accents as well.
There are so many ways to decorate with ribbons…and an embroidered one can bring "extra" elegance to any occasion.
As chair back decoration:
As table setting: A contemporary & European way to decorate your table this festive season. The use of Table Ribbons reduce laundering. Arrange in odd numbers: usually 5 or 7. Golden Moments is a very elegant design for even Easter or Weddings.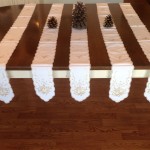 As bows…or wreaths…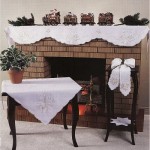 We select Viscose to blend with Polyester for easy care. Viscose is the oldest man-made fibre with a luxurious & silk like aesthetic. The Viscose content can provide a superb drape on any surface. Also, check out our Golden Moments Tablecloth.
Made of warm white Viscose & polyester blend.

Embroidered white & gold accents details.

Ribbon size: 4″(w) x 60″(l)

Measurements are approximate with a variance of 5-10% deviance.

NO Dryer

.