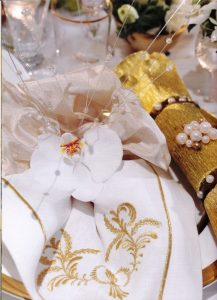 Celebrate the Festival of Lights: Golden Moments table setting features beautifully embroidered white candles with gold thread accents.  Or celebrate all the Golden Moments in your life : Hanukka, Yuletide, Christmas, Weddings, Anniversaries, Birthdays, etc. Perfect for any occasion! Simple & elegant, setting a table for memorable occasions is effortless. Limited quantities. Available in home decorating accents as well. Easy care Viscose & Polyester blend.
Tablecloth in oblong sizes.
We select Viscose to blend with Polyester for easy care. Viscose is the oldest man-made fibre with a luxurious & silk like aesthetic. The Viscose content can provide a superb drape on any surface. Also, check out our Golden Moments Embroidered Ribbons if you're looking for more products to match.
Made of warm white Viscose & polyester blend.

Embroidered accents details.

Oblong sizes:  54″x72″, 72″x90″, 72″x108″, 72″x126″.


Measurements are approximate with a variance of 5-10% deviance.

NO Dryer.

Limited quantities in tablecloth sizes.