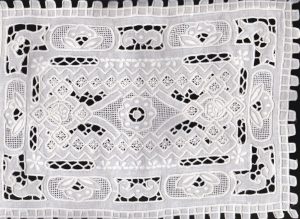 Venetian embroidery, or Renaissance embroidery, is the term applied to Cutwork embroidery patterns, which are worked entirely in button-holing, and connected by button-hole bars. It is worked on fine linen. Our Great Wall collectible offers more: Pulled Thread openwork, Spider Wheels, Long and Short Satin stitch embroidery, Dot embroidery, all with the magic of a needle.
    
An amazing accomplishment in design as well as expert embroidery, the Great Wall is unique and unrivaled. It is nicknamed Great Wall because of the border edge, resembling the incredible structure that is visible from space. Almost every inch of the doily or place mat is filled with meticulous and expert embroidery. Many high skilled embroidery techniques are executed to perfection. Indeed, the hand work is so perfect and so intense that there is little difference between the front side and the back side of the doily. The design is superb, geometric shapes integrate with soft curves of flowers and petals in an aesthetic graphic for traditional or contemporary settings.
We invite you to own a piece of ultimate human creativity manifested in lace and linens. For this heirloom collectible, the affordable price will bring Beauty and Intimacy, a sense of History into today's stressful routine. Presented to you on a silver platter!
100% Pure Linen fabric.

Warm White colour.

Hand stitched and hand embroidered.

Oblong sizes :  10×14″ / 12×20″

Measurements are approximate with a variance of 5-10% deviance.

Precise measurements can be available upon request.

Dry clean.
Approximate prices in other currencies:  US$ 33.01. / UK pound sterling 23.01 / Euro 30.11.. for 12×20″    (Jan. 2016)