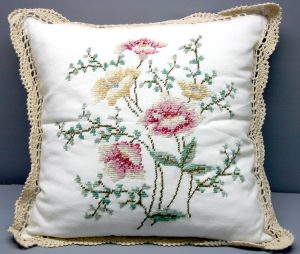 Aida cloth (sometimes called Java canvas) is an open weave, even-weave fabric traditionally used for cross-stitch embroidery. This cotton fabric has a natural mesh that facilitates cross-stitching and enough natural stiffness that the crafter does not need to use an embroidery hoop.
Our aida cloth product line is ideal for a touch of simple elegance in a country home. The design is hand stitched in woolen needlepoint. A beautiful old rose dating back to 1896, Anemone with Green foliage in tent stitches create a beautiful pillow interchanging various shades of wool yarn. A hand crocheted lace trim in chain stitches & double crochets forming a mesh ground, and finished with wide arches.

An interesting note of Anemone : Often called 'Pink Cherokee', it has the vigor but is much more open and dainty in its foliage, with something of the beauty of an oriental brush painting. This heirloom rose bears five heart shaped, soft pink petals around a crown of golden stamens. Limited quantities.
It is All in the Details, there are still 143 needlepoint stitches per square inch by expert lace worker.
Hand stitched with 100% Wool yarn.

Yarn dyed for colour fast.

Made of Cotton Aida Cloth : Ivory colour.

Zipper closure hidden mid way.

Square Size : 16″x16″

Crochet Lace trim : 1.5″

Cover only.

Measurements are approximate with a variance of 5-10% deviance.

Dry clean.