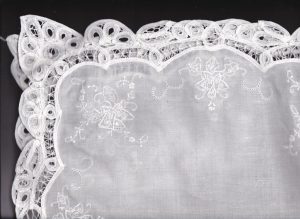 As seen in the popular Television series, REIGN (episode 26: THE LAMB AND THE SLAUGHTER,) Royal Battenburg Lace was indeed reserved for the Royals. Catherine de Medici herself was an expert in needle work. The handiwork in the craftmanship requires a high level of expertise. It is All in the Details, note the intricate Drawn Thread embroidery at the centre of each rose. The corners in a continuous trim defines skillful handwork. Indulge your surroundings with Royal Battenburg Lace.
It is fashionable for high society to carry beautiful and well made handkerchiefs, always in white colour. In this Reign episode, the handkerchief served as a surreptitious go-between to send an explicit  message. As a tribute, we nicknamed this handkerchief "Reign-Royal."
Made of Swiss made fine handkerchief cotton.

Pure White.

Royal Battenburg Lace or Bobbin Lace distinctive hand made features.

Size : 17″ x 17″ square.

Expert hand embroidered Roses as embellishment.

All measurements are approximate with a variance of 5-10% deviance.

Hand wash. NO Dryer.