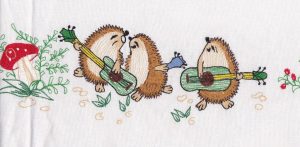 If you have kids or are just "young-at-heart", then this is the perfect tablecloth for you!
How cute & delightful is this Folk Art inspired tablecloth!  One can hardly resist to smile at the cheerfulness of this whimsical decorating cloth. The adorable hedgehogs are obviously enjoying playing the instruments with each other in the band. Inspired by Folk Art, which is primarily utilitarian and decorative rather than purely aesthetic.
We choose Aida cloth because this cotton fabric has a natural mesh, with various size spaces or holes between the warp and weft. The fabric lends a natural "folk art" element to the design.
Made of pure Cotton.

Yarn dyed thread for lasting colours.

Size: 34″x34″ square.

Measurements are approximate with a variance of 5-10% variance.

NO dryer.