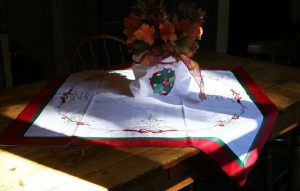 "Hand-turn applique is not the only hand-worked method, but it is quick, easy, and well suited to most pieces. You will use a sewing needle to turn under the seam allowance, and the slipstitch (sometimes called the blind stitch) to secure the motif to the background fabric" Martha Stewart.
The Appliqué stitches of this Holly Wreath Gift Bag are so beautifully crafted that only an expert embroiderer can master (an incredible 18-20 stitches per inch.) With a wide bottomed gusset, It makes an attractive holder for the Poinsettia plant or any evergreen. It is All in the Details, the opening is well finished with a red binding trim, folded over for a colourful edge. Great for Christmas, or just as a whimsical decoration!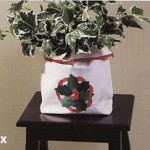 Or, simply use as an attractive gift bag. With a wide bottomed gusset, It can even hold a bottle of Wine.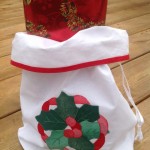 Made of pure crisp white cotton.

Applique hand stitched 18-20 per inch.

Size : 11″(w) x 11.5″(h)

Gusset :  3.5″ expansion.

Finishing with red binding trimming.

Colour fast fabric.

Measurements are approximate with a variance of 5-10% deviance.

NO Dryer.