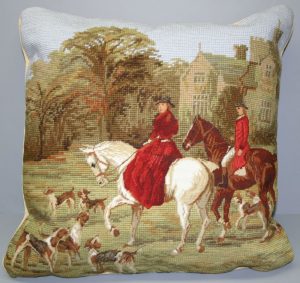 It is inspiring to read about a 200 year old distinguished sport : The Hunting of the Fox upheld in Courtland, Alabama. Victoria Magazine never ceases to amaze us with interesting articles- reported in November/December 2012 issue. www.victoriamag.com This amazing hand-stitched Wool Needlepoint Pillow Cushion pays tribute to an honourable sport of the Court.   
The picturesque scenery is a depiction of a tapestry.  16″ cushion or pillow cover is skillfully hand stitched in Gros Point of 100% Wool.  The foreground of figures and animals are then hand stitched in Petit Point.  Petit Point is ALWAYS comprised of tiny, beautiful stitches worked on individual threads of fine mesh needlepoint canvas (22 or more threads to the inch). The difference in number of stitches per inch immediately provides foreground and background. Artfully blending Gros Point and Petit Point stitching engenders a 3-D dimensional effect. Petit point work can now allow the expert stitching to subtle details such as light & shadow on the white horse, features of both animals and human, reins & bridles, etc.. There is no doubt that Victorian art is adhered to in this attempt of reproduction. Limited edition. On sale now!
Our regular decorative needlepoint pillows have 132 stitches per square inch. Our Petit Point pillows have an incredible 576 stitches per square inch for even greater detail. Several of our pillows are a mix stitch of regular grosse point Needlepoint and Petit Point stitch. They are indeed a beautiful expression of hand artistry and timeless beauty.
Approximate prices in other currencies: US$ 164.47 / UK pound sterling 115.59 / Euro 150.65  (Jan. 2016)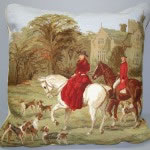 Made of 100% Wool yarn.

Yarn dyed for colour fast.

Velveteen cotton backing:  Ivory.

Zipper closure hidden mid way.

Square Size : 16″x16″

Cover only.

All measurements are approximate with a variance of 5-10% deviance.

Dry clean.