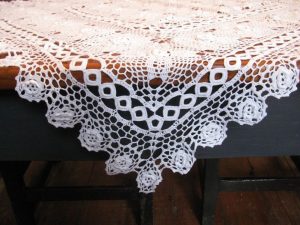 Irish Rose crochet lace is hand made in fine cotton thread and features motifs of roses, flowers, leaves and branches on a finely-worked crochet mesh. A proud representation of Ireland's grand history and everlasting beauty.
We develop this beautiful Crochet Lace design with multiple expert techniques & patterns. Strongly inspired by the Irish Crochet Rose flowers & leaves, we begin with a two layers Irish Rose throughout the border edge as well as the entire tablecloth design. To add an exclusive & unique finishing touch, there are labour intensive double crocheted lace rings in 2 layers. The result is aesthetic & elegant beyond normal standard. We offer a wide range of 11 sizes in White or Ecru colours. Limited quantities.
Made of premium quality pure cotton.

Creamy vintage ecru colour.

Square sizes :  36″ x 36″, 54″ x 54″.


Measurements are approximate with a variance of 5-10% deviance.

Precise measurements can be available upon request.

NO dryer.