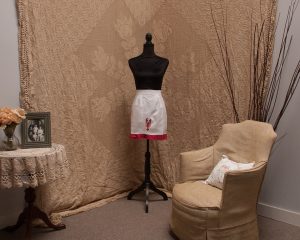 First of all. we would like to Introduce our whimsical and fun kitchen apron. So, a cheery red and white apron  Red Lobster embroider Waist Apron. A By- the- Sea favourite.
An apron is a garment worn at the front of the body, since ancient times, for practical and decorative purposes. Most aprons tie at the waist, usually made of pure and white premium quality cotton.
https://bellatory.com/fashion-industry/HIstoryofClothingApronsPracticalandDecorativeFashionClassics
At The Lace And Linens Co.com, we offer 3 types of Aprons:
Waist Apron or Half-Apron that extends from the waist to mid thigh.

Bib Apron or Full-Apron covers the chest and ties or loops behind the neck and ties at the waist.

Pinafore Apron features more fabric over the shoulders than a conventional full or bib apron. Pinafores often include decorative ruffles, or 'wings' of fabric above the shoulder.
So, for someone who wants a whimsical apron for the kitchen! We create this half-length waist apron with a red embroider lobster. Furthermore, the Red and White Polka Dots edging adds a fun-loving humour.
Made of pure crisp white cotton.

Size : 26″ x 34″.

Embroidered Lobster in colour fast Red thread

1 pocket: 4″ x 5″.

Softly pleated at waist.

All sizes are approximate measurements with a variation of 5-10% deviance.

No Dryer.