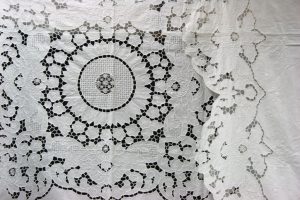 The Flower Garden Elaborate Cutwork bed cover is a symphony of exquisite hand stitches, white work, drawn thread and Pull-thread workmanship. The bed cover sports a sunflower motif, surrounded with embroidered lotus blossoms, irises, giving the design an ethereal appeal. Queen/King size only.
Whenever you want it as a simple bed cover, or as an airy canopy, the Flower Garden Elaborate Cutwork Bed Cover is both easy to use and easy on the eyes.
Cut Work Chrysanthemums Euro sham is remarkable  in workmanship. Close up version fully demonstrate the amazing hand embroidery…
Designer's idea corner
You can create Magic and Beauty in the bedroom. Set the mood with an exquisite Bed Cover, a visual focal point when entering. Mix and match bed pillows. Variations from our diverse product offerings in Battenburg Lace and/or Cutwork is an easy way to decorate. The rest will be easy…Layer the bedside night stand with 2 different sizes: a square and a round. Check our many selections to suit your budget.  Add doily or runner as supporting accents, such as headboard (in this picture). Lace tablecloths or curtain panels can also add elegance to a canopy. The possibility can be endless…email us an image and we can help customize a designer's look according to your budget.
Made with premium quality 100% Cotton.

Crisp White.

Queen/king size.

Bed Cover size:  110″(w) x 102″(l).

Matching Euro size:  Large 35″x35″ Square

Trimmed with White work and Cut work embroidered flowers on 3 edges.

Drawn thread & Pull Thread Lace work in the centre.

No Dryer.
Approximate prices in other currencies:  US$ 355.63 / UK pound sterling 244.57 / Euro 309.07     (May 2016)