Linens & Life Styles: Sunday Brunch in the Garden. Any Linens & Lace such as a bun cover or a table topper will bring intimacy & elegance to an otherwise ordinary brunch.
Embroidered flip bun cover or toast napkin adds a wonderful finishing touch to any dinner party or outdoor picnics. We offer many styles to choose from.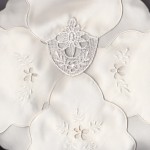 For dining in a modern day setting, we create a simple design for every day dining pleasure.
Made with synthetic polyester.

ivory colour.

Size:  16″ x 16″.

Macramé Lace on main corner.

Embroidered & cut out work on 3 corners.

No dryer.