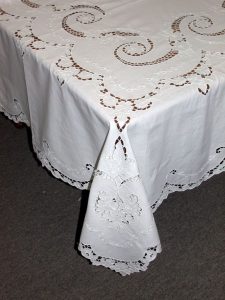 The hand embroidery of Madeira is generally recognized as being the finest of its kind available in the world. Over the last 150 years, Madeira has collected expertise from the fast disappearing regional centres of hand embroidery across Europe and moulded these various styles into a distinctive package, that, in terms of quality of handwork, is unsurpassed worldwide.
It is hard to imagine a simple overcast stitch can produce such beauty. We design this exquisite Linen tablecloth with flowers and petals blooming on the bordering edge. The beauty of Madeira hand embroidery is exquisitely demonstrated by expert artisans.
Oval shaped tablecloths are not readily available. This is an unusual and elegant tablecloth!
It is All in the Details, border edge is trimmed with delicate cut work of blooming flowers and petals.
We choose a linen/cotton blend fabric for longer lasting durability and ease of care. The cotton content at 45% provides enough stiffness to the exquisite floral details of the border edge. On sale now!

Made of premium quality 55% Linen/ 45% Cotton blend.

Hand embroidered with unique Madeira Cutwork trim and border.

Oval shape:  70″x104″.

Matching Napkins:  Dinner size 18″x18″- Set of 4.

All sizes are approximate measurements with a variation of 5-10% deviance.

Dry clean.